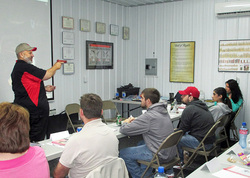 Dann Sternsher, our lead instructor, has been instructing and training people aged eight to eighty for over twenty years. He is passionate about helping men, women, and youth develop personal safety knowledge, skills, and abilities to be confident, prepared, equipped, and empowered to be safe, enjoy various shooting sports, and protect themselves from those who seek to cause harm to them or their families.
He is an
NRA Appointed Training Counselor, Advanced Pistol Instructor, and Certified Instructor
in all NRA disciplines, an NRA Chief Range Safety Officer, an appointed
Regional Counselor and Instructor for the Refuse To Be A Victim crime prevention program
,
USCCA Associate Instructor
, and a
SABRE Red Pepper Spray Personal Safety Academy Instructor
.
With previous experience in law enforcement as a police officer and certified 911 Emergency Medical Dispatcher, he has completed hundreds of hours of training in firearms, self-defense, defensive mindset, and law enforcement. A firm believer in life-long learning and skill development, Dann continues to seek out new training opportunities every year to continually improve his knowledge, skills, and abilities to protect his family and share with his students. He also works with area youth as an Ohio 4H Shooting Sports Instructor for Rifle, Pistol, and Shotgun in addition to competing in local and regional shooting competitions.
---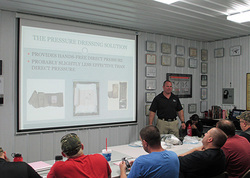 G4 Personal Safety also partners with other instructors to provide quality training opportunities. Greg Ellifritz from
Active Response Training
presented his Tactical First Aid and System Collapse Medicine course at our facility in 2015 and 2016 and also presented his Defensive Knife for Concealed Carry course in 2016. Greg is back for 2017 with his outstanding instruction and expertise, check our
Course Schedule
for more information.
---